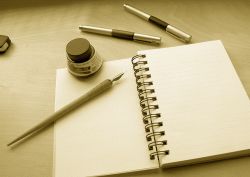 Over the last three weeks, we have focused on issues to do with getting published in academic journals, as this is traditionally the first step many newly-qualified academics take into the world of academic publishing. The first task in getting published is actually writing the paper ,so here is the first post in a new series on how to write journal articles by the thesis whisperer Dr Inger Mewburn. PhD2Published is all about being interactive so intertwined with Inger's step-by-step approach to paper wrting will be posts from me discussing my experiences of using her techniques to create a paper based on one of the issues highlighted in my previous post.
In my last guest post I gave out some advice on selecting journal articles and developing a publishing strategy. Over the next seven posts I am going to write about my 'quick and dirty' method of assembling a journal paper for publication.  I believe that many research students are held back from publishing because they think an article is 'extra effort' on top of their PhD. In one sense they are right; it is extra effort, but the work can be folded back into your PhD so it is not wasted effort. This post is geared towards a research student audience because this is the one I know best, but I think what I have to say applies to early career academics too.
All of us, as we go about our everyday academic doings, generate what I call 'academic detritus' – bits and pieces of writing, tables of analysis, notes and jottings. If you are the organised sort you probably have these in one place – maybe a research journal. If you are disorganised like me they will be over the place. My quick and dirty method presumes that you have a bunch of this stuff lying around which could be turned into a paper given enough of the right kind of attention.
Thinking happens during writing, not just before it. Organising this detritus by writing a paper with it can help you to clarify your thoughts – and think up new ideas. There's plenty of books and research which you can consult to confirm this claim of mine, but since you are the type of person who likes to read a blog post I won't bog us down too much by justifying it (I will just refer you to Howard Becker's excellent "Writing for Social Scientists"). But before you leap in I recommend giving a bit of thought to the sort of paper you want to write so that your efforts contribute to your overall project of work.
Graham Rugg and Marion Petre in their most excellent book "The Unwritten Rules of PhD Research" put forward a taxonomy of paper types, which are useful to the novice journal paper writer.
Data Driven papers will be the type you are most familiar with. They usually contain the results of some kind of empirical investigation in the standard introduction, method, results, discussion and conclusion format (or what I call "the dead hand of the thesis genre"). Many students tend to think this is the only type of paper they can write, but this is incorrect. Rugg and Petre note that some papers are more concerned with Method than Results. Methods papers explain to other researchers how various methods work or can be repurposed to fit other research aims, usually with the aim of promoting the method. There are other kinds of papers which aim to promote ideas rather than methods; Rugg and Petre break these down into two types: Agenda Setting papers which suggest a future direction for a research community or Consciousness Raising Papers (my personal favourite) which attempt to raise issues which the author feels are not been given enough attention.
One of Rugg and Petre's types is one which nearly every research student has ready material for: the Review Paper. Once every 10 years or so a person will sit down and actually read everything in the field and write a paper evaluating it. Sound familiar? Yes – it's your Literature Review! The last type which Rugg and Petre talk about is the Theory Paper which either introduces or explains a new theory or updates thinking on a current theory. The authors warn that these papers are usually written by people very experienced and that graduate students should be sure they have the 'Chops' to do one before attempting it.
So which one should you bother writing? Well remember that all researchers (including you) are selfish, time constrained creatures who will only read something if it's worth their while. I call this the WIFM (what's in it for me) factor; if you always know the WIFM for your audience you will be a successful writer. Different types of papers will appeal to different kinds of researchers. A scientist will be more interested in a methods paper which gives them ideas for what they can do next, than a theory paper which questions the veracity of the scientific method. Likewise, a social scientist with a bunch of their own data will probably more likely to be interested in a theory paper which helps their data make sense and less interested in a data driven paper, especially if it contains material which cannot be usefully compared with their own work. There is one exception to this: the review paper. Everybody loves a good review paper because it means they don't have to bother reading all the stuff they know they should read. Write a great one and you will get cited – a lot. So why not start today?