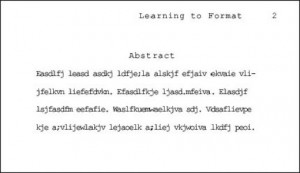 Today we present the next part of Dr Inger Mewburn's series on 'seven steps to creating a journal article' (you can recap on the last part here). This post focuses on how to write your abstract.
This is the next post in my series on how to write a journal article. Previously I have talked about the importance of developing a publishing strategy and deciding what paper genre you wish to use. The next step is to craft an abstract for your unwritten paper. An abstract compresses the purpose, findings and implications of your paper into a paragraph. Developing skills in abstract writing are necessary for any budding academic as you will be often asked to do them for conferences, seminars and so on. A good abstract 'sells' the idea of the paper to the committees for such events – or even to yourself. Writing abstracts is an easy skill to learn, but is often not explicitly taught with many of us just picking it up by osmosis as we go on with other academic work.
Crafting an abstract is an integral part of a paper, even if you are only writing it for yourself, because it acts as a 'compass' for the
later writing. Most of the advice I have to offer here is from page 85 to 90 of "Helping Doctoral Students to Write" by Babara Kamler and Pat Thomson – which is unfortunately currently out of print. Kamler and Thomson call the abstract a 'tiny text' and claim that it
represents the 'thesis in miniature' and propose that you think about the following questions before you start to write the abstract:
What's the research problem being addressed?
How do I locate the significance of my work?
What conversation am I in? Where am I standing in relation to research on this problem
What do I offer as an alternative to existing research?
What is my argument?
Rowena Murray in her excellent book "How to write a thesis" has a similar approach, but advocates writing to 'prompts'. Early in
Chapter Three she gives a series of sentences which you can 'complete' with a helpful word count for each. These prompts force you to get all the relevant information for your abstract out of your head and onto the paper. I've slightly modified these sentences for paper writing rather than thesis writing:
My paper's main purpose is… (50 words)
Researchers who have looked at this subject are… (50 words)
Debate centres on the issue of … (25 words)
My contribution will be… (50 words)
These sentences are the skeleton on which your abstract will hang – but you should not use them in your actual abstract (that's a bit like the academic equivalent of visible panty line!). Instead you should aim to write your abstract in about four main sentences using the information as a guide. Kamler and Thompson identify 4 moves which each of these sentences make, which can be summarised as follows:
1. Focus
2. Locate
3. Explain
4. Implications
The first sentence should focus us on what the paper will be about; the send should locate the paper in the current literature or debates in the field, the third should compress your methods and data and the final should tell the reader what the paper contributes. If this blog post had an abstract it would go something like this:
FOCUS This post will explore a range of strategies for producing abstracts. LOCATE Thesis writers are advised that an abstract should act like a thesis text in miniature (Kamler and Thomson, 2006) and that 'prompts' can be a useful way to focus their writing efforts (Murray, 2010). EXPLAIN this post endeavours to put this advice in a 'user friendly format'; outlining the key techniques from seminal books in as few words as possible. IMPLICATIONS it is hoped that this post will demystify the art of writing abstracts and encourage thesis writers or early career academics (even research supervisors) to seek out the original texts for further advice.
That's all there is to writing an abstract – why not have a go at one today?
APA Abstract format picture provided by http://owl.english.purdue.edu/owl/printable/560/