Astrid Bracke writes on twenty-first-century British fiction and nonfiction, ecocriticism, narratology, climate crisis and flood narratives. Her monograph, Climate Crisis and the Twenty-First-Century British Novel, is under contract with Bloomsbury Academic. This is the second of four blog posts she will write for AcWriMo 2016.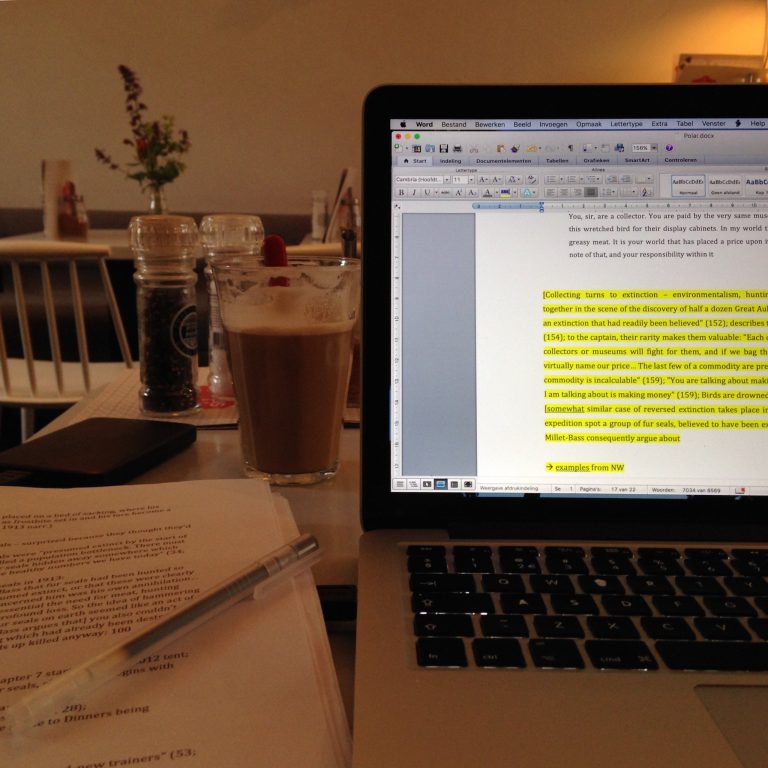 In the previous post I explored the differences between writing a dissertation and writing a book. In this post and the next I'll write about the process of writing the book, both in terms of practical matters and in terms of deciding on the kind of book you'll write.
There are two ways of going about writing a book: either you write a book proposal first, submit that to a publisher and wait for them to accept it (fingers crossed!), or you write the entire book first, and then submit that to the publisher. While some people go for the second option, most academic publishers don't want you to send them an entire book immediately. If you do want to write the book first, or you want to publish your dissertation, you could write a proposal based on the finished manuscript and submit that. All academic publishers have a section on their website with details, so make sure to check that out first.
There's a few risks involved with writing a book without having secured a contract from a publisher. The publisher might not accept it, or will require changes to be made to fit the book in with a series. Most importantly, though, having a contract in hand can be stimulating: having a deadline adds a sense of accountability to a project that can be quite lonely at times. Also, even though you haven't yet written the book, having the contract gives you something to be proud of (and it looks much better on job and funding applications to have a book 'under contract', then just to be working on it as anyone can say that).
At the same time, I know of a few publishers who will express interest based on a proposal but won't offer a contract until they've read a substantial part (i.e. a few chapters), or all of the manuscript. In that case it's really up to you to if you want to proceed: if the publisher is renowned, if your book fits their list well and/or if you feel secure enough to go through with the book without the contract, you should.
I spent a few months researching and planning the book and then submitted a proposal with detailed chapter descriptions to a publisher. I was lucky to immediately be offered a contract. In my final post of this series I'll write a bit more about this process and communicating with the publisher in general.
By the time I was offered the contract the timeframe that I had sketched in my proposal didn't fit anymore. Hearing back from the publisher had taken longer than I had anticipated and I had decided not to start on the book until they had accepted it. Before I could start on the project I also had to write two articles I had committed to. With this in mind I asked for the delivery date of the manuscript to be pushed back a few months, which wasn't a problem.
The process of writing a book has a practical dimension and a more content-focused dimension. You'll have to figure out when you're actually going to write it and, even though you've already written a proposal, you'll have to figure out what kind of book you'll write. Although I thought I had a pretty good idea about this going into the project, it did take quite a lot of work clarifying what I wanted to write, and what my emphasis would be on. I'll discuss that process more in the next post.
First, though, the practical side. Once I actually started on the book I had about ten months in which to write it. In the beginning that felt like forever – I had all the time in the world to write this book! It would be fine! By nature I'm a very disciplined and organized person so despite feeling like I had plenty of time I drew up a detailed plan first.
My book consists of four chapters (13,000 words long each), an introduction (10,500 words) and a conclusion (5,000 words). I also needed time for revision at the end, as well as after every chapter, and wanted to schedule enough time so that I could ask other scholars for feedback.
My preferred method of making a plan for any kind of project is to use both a paper calendar – I currently use this one by Moleskine for my research projects – and an app, OmniFocus. I need to see on paper how much time I have available, so I began sketching out my plan using my paper calendar. I started off by planning in big chunks: around average 2½ to 3 months per chapter. When I began work on a chapter I drew up a more detailed plan, which I added to both my paper calendar and OmniFocus.
The benefit of my paper calendar for me is that I get a month at a glance – and I find it easier to plan on paper. OmniFocus, on the other hand, syncs with the app on my phone and iPad, so I always have it with me, and allows me to create projects. My book was one of those projects, and I could add to it even tasks that I didn't need to schedule immediately but that I didn't want to forget. Using the review-function, I was able to go back to these tasks and assign a date to them when they became important.
While planning, try to be realistic. The first chapter I wrote was the sample chapter I had submitted with the proposal, so I was rewriting more than writing from scratch. Consequently, this took me about two months at most. The next chapter's subject matter was already very familiar to me from my PhD, so I knew beforehand that I wouldn't be needing that much time for it either. Chapters three and four, on the other hand, were on new material, so I needed about three months for each.
Using my calendar helped me to keep other commitments in mind. I knew that by the time I had to write my introduction and conclusion I wouldn't be teaching so I planned one month in which I wrote both. In practice, though, I wrote the book on one day a week.
While I wrote the book I used the proposal as the basis, but as I went along I ended up making changes and had to figure out in more detail what kind of book I was actually writing. I'll discuss this process in my next post, as well my revision process.