This is the third and final part of a series of posts giving advice on how to get published in academic journals. This week Professor Chris Hamnett from the Geography Department at King's College London offers advice on dealing with rejection and resubmission.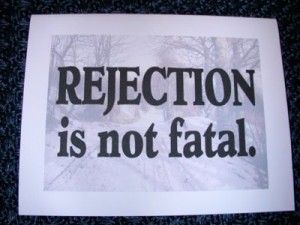 One of the toughest things young researchers have to deal with is the letter from the editor of the journal they submitted to saying 'thanks, but no thanks'. The first thing to understand is that while total rejection letters are always tough to deal with, letters saying 'no thanks' but suggesting they are willing to consider resubmission are very common, perhaps even normal, and they are by no means confined to young researchers. If my experience is anything to go on (and it may not be), most researchers, however experienced and well known, have a nice file of 'reject but resubmit' letters. In fact, if I remember correctly, in the introduction to one of his classic early books, David Harvey recounted that he had a drawer full of rejections at the start of his career. It happens to everyone.
I was lucky. The first two papers I submitted, right at the start of my career were accepted, subject to the inevitable modifications. This gives you a bit of confidence so that when the first rejection or resubmission letter arrives you don't see it as a vote of no confidence in you as a researcher.  You may not be this fortunate, but you need to read the editors letter and the referees comments with great care. Occasionally, you may be fortunate enough to get three referees who are all positive, but this is relatively unusual. Quite typically, one referee likes the paper, another likes it but says it has weaknesses, and a third dismisses it as deeply flawed. If you get three referees who all say that the paper is of limited value or flawed, you will probably get a straight rejection letter with no right of resubmission  and the best thing may be to start again once you have digested their comments and reflected on them. The important thing to realise is that if you submit to a prestige journal the editor will probably get 3 or 4 times as many papers as they can publish, and anything which is not almost perfect is going to get some form of revise and resubmit letter. Straight acceptance, or acceptance with minor revisions is relatively unusual.  If you get one of those count yourself very fortunate.
If you do get a reject but resubmit letter the key thing is to read the referees comments carefully and try to deal with them as fully as possible in your revised version. Most referees comments are extremely useful and point out how you can improve the paper to make it fit for publication. And do make sure that you resubmit. You have a foot in the door. But making a few cosmetic changes is very unlikely to work, and it is very likely that you will then get a straight rejection.  Dealing with referees comments can take a lot of time, but it is worth doing.  You may find that some referees are simply critical and negative but they are in a minority in my experience.
The best thing about the blind refereeing system is that experience and position do not enter the equation. One of the most entertaining memories I have is about 15 years ago when I had sent a paper to a journal. After a few months I received two letters in the same post. The first was to tell me that the editor could not accept the paper as it stood, and suggesting I may wish to resubmit taking into account the referees comments. The second letter was an invitation to become the next editor of the journal. The moral of this tale is that rejections or requests to resubmit papers  are part of academic life and they affect all academics. Don't be disheartened when you get your first. We have all had them, and we still get them.