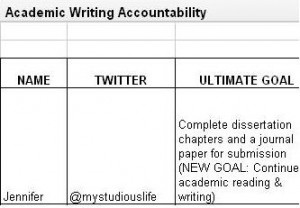 Today's post complements our new #AcWri project and is written by Jennifer S. H. Lim, a Computer Science graduate, currently working on her final submission of her dissertation as part of the fulfillment for her Master in Computer Science at University of Malaya, Malaysia. In the first of a two part series, Jenn introduces her now established academic writing initiative. She also blogs about her studious life and tweets as Studious Jenn @mystudiouslife.
I love writing. I use it to share ideas and information with the hope that it engages people in conversations that generate more ideas. That's why I also love blogging, where I can write freely about topics that interest me whenever I like. However, academic writing is a different story. I still write topics that interest me but the need to actually write is more intense than merely writing a blog post. Academic writing projects are usually longer and more time consuming and no matter how much I love writing, when it comes to writing academically, the process can become overwhelming. Most of the time, writing just doesn't happen at all. Procrastination ensues and then I just panic and write  last minute, which doesn't meet any quality control.
This approach just doesn't work well for me, especially at the point when I needed to write at least 10,000 – 30,000 words of a dissertation over a period of time. Although there was no set due date in that situation, I knew that the longer I delayed writing, the longer I would take to finish it. My biggest problem is that when there is no one to 'force' me to write I eventually procrastinate more. Hence, in order to succeed, I have to take actions. I need to be the one who 'forces' myself to write and I must be accountable for my own progress and success. This is the reason I started the Academic Writing Accountability initiative, where writing goals are shared in a spreadsheet and progress are updated daily. This initiative revolves around a Twitter community made up of anyone who is interested in academic writing and is willing to share their writing progress. Hopefully, this initiative helps as many people as possible to become more productive in writing to achieve their goals.
It all started when I was feeling 'blocked' while I was writing my last few dissertation chapters. I thought I couldn't write because I didn't have enough time to write for long hours due to my full-time job. When PhD2Published started the Academic Book Writing Month (#AcBoWriMo) project last November however, I was glad to join so many in the initiative to achieve my goal. My writing goal at that moment was to complete two chapter and by the time November ended I had completed Chapter 4 and started Chapter 5. I realized that such an initiative had actually helped me progress better even though I didn't achieve my goal completely. I still continue to be in touch with the writing community.
Eventually, #AcWri was formed because there were still people (including me) who were keen to continue the writing initiative. One day, I was tweeting about how to improve academic writing productivity. After some tweets, I suggested using Google spreadsheet to share productivity progress so we can keep track of our own goal and progress online and at the same time let others  hold us accountable. Once the spreadsheet was created, a few of the #AcWri regulars joined the initiative by sharing their ultimate/daily goals and their updated daily progress.
Why writing accountability? I have a few beliefs that motivated me to start this initiative:
Daily writing habit is essential for academic success and this habit can be cultivated through practice. This is the practice where you become the one to 'force' yourself to write daily.
Be accountable for your own writing by publicly sharing your writing goal: ultimate goal (i.e. complete a dissertation) and daily goal (i.e. write 500 words). By sharing your goal, all will know what you are trying to achieve and you are being hold accountable for achieving your goals.
Productivity will increase when it is being measured or monitored. By keeping a record of what you have done, it's good for reflecting and planning to improve your productivity.
Peer support is the best motivation in academic writing. Knowing you do not struggle alone in the writing process is helpful.
Does accountability in writing work for everyone? The answer will vary among individuals but most importantly, you can just give it a try and see for yourself. It works wonderfully for me. My ultimate goal of completing dissertation chapters and a journal article was achieved using this initiative. Regardless of what you choose to do, be sure it works for you in achieving your goals. If you have any other ideas about increasing writing productivity, I would love to hear from you.