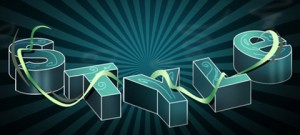 Today's guest post comes from Tim Rutherford-Johnson. Tim is a freelance copy-editor who has been making academic authors more stylish for longer than they realise. You can follow Tim on twitter here.
Style? Simple: it's Bryan Ferry, Oswald Boateng suits, Coco Chanel, the E-Type Jaguar. Right?
Well, for an editor 'style' also conjures up images of reference books, dictionaries and lists of acceptable abbreviations. It is – as far as such as thing is possible – a way of codifying certain characteristics of how an author writes, or how a publisher or journal would like to be represented.
A publisher's stylebook is a guide for editors that gives definitive answers to most of the questions they will face when editing a text: 19th century or nineteenth century? Postmodern, post-modern or post modern? US or UK spelling (or U.S. or U.K.)? The idea is to make the whole text a consistent and even read, and to present it in a professional light. It goes further than pedantry: in large reference works, for example, it's useful to have every instance of a person's name, for example, spelt the same way. (This is especially important with the move to electronic searches.)
The BBC News Styleguide (pdf) justifies itself in even more direct terms: 'Well written English is easier to understand than poorly written English.'
In the aesthetic sense there's not much editors can do for a writer, unless both sides are prepared to engage in a lot of to-and-fro over a manuscript. To a great degree one's style is simply how one writes, and too much tampering with it risks damaging both sense and expression. (That to-and-fro presumably does happen on some happy occasions, although I've never seen it in narrow-margined academic publishing.)
Style in the practical sense, however, is something that can be worked on, although it requires careful attention to the boundary between what can and what can't, after all, be codified.
Many things that editors and/or proofreaders will do to a manuscript are matters of correcting grammar, which, helpfully, will very often improve the aesthetic style of a text, making it clearer and more pleasing to read. Many other things, however, are a little more contentious, and without guidance an editor may resort to the stylebook's rigid prescriptions – a practice that is often a cause for friction between authors and their editors.
And there are occasions when a personal, non-conformist stylebook contributes to the aesthetic effect, a good example being Susanna Clarke's bestselling Gothic fantasy novel Jonathan Strange and Mr Norrell.
Strange/Norrell is a book about two magicians in early 19th-century England. It's mostly written in contemporary English, but Clarke has made just a handful of tweaks to modern spelling conventions. It begins subtly on the very first page:
Some years ago there was in the city of York a society of magicians. They met upon the third Wednesday of every month and read each other long, dull papers upon the history of English magic.

They were gentleman-magicians, which is to say they had never harmed any one by magic – nor ever done any one the slightest good. …
Those two 'any one's, with space in the middle, set the reader off balance just slightly. Further, more obvious examples accumulate through the text – 'surprize', 'headach', 'chuse', etc. – never enough to dominate, but enough to give the text a mysterious, period air.
The key is consistency, because this confers authority (and reassures your reader/editor that you haven't simply forgotten how to spell). And it's very easy to compile your own stylebook as you write. Just keep a separate document open, or a sheet of paper by your side, and every time you're confronted with a choice such as 'acknowledgement' or 'acknowledgment', make a note of what you do. Refer to your list whenever necessary, and your text will start to look more stylish, in both senses of the word. No doubt Clarke and her editor had a full list of oddities close at hand as they worked.
Peculiar spellings appear all over the place in academic literature: they're not always as obvious as those in Strange/Norrell, but they may be there for particular technical reasons (Jacques Derrida's différance springs immediately to mind, but there are countless less exalted examples). If their usage is consistent, the reader can be confident that they're intentional; only reading on will reveal something of their mystery.