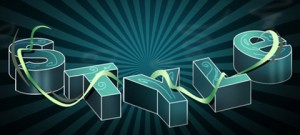 Today's guest post comes from Tim Rutherford-Johnson. Tim is a freelance copy-editor who has been making academic authors more stylish for longer than they realise. You can follow Tim on twitter here.
Style? Simple: it's Bryan Ferry, Oswald Boateng suits, Coco Chanel, the E-Type Jaguar. Right?
Well, for an editor 'style' also conjures up images of reference books, dictionaries and lists of acceptable abbreviations. It is – as far as such as thing is possible – a way of codifying certain characteristics of how an author writes, or how a publisher or journal would like to be represented.
A publisher's stylebook is a guide for editors that gives definitive answers to most of the questions they will face when editing a text: 19th century or nineteenth century? Postmodern, post-modern or post modern? US or UK spelling (or U.S. or U.K.)? The idea is to make the whole text a consistent and even read, and to present it in a professional light. It goes further than pedantry: in large reference works, for example, it's useful to have every instance of a person's name, for example, spelt the same way. (This is especially important with the move to electronic searches.) Read more