Announcing: the PhDometer 2.0, a writing productivity app for academics!
The PhDometer (pronounced F'dometer) is a pedometer for PhD students and beyond.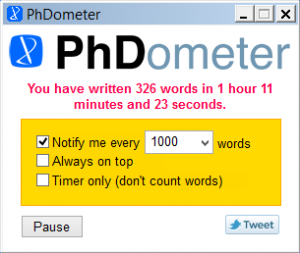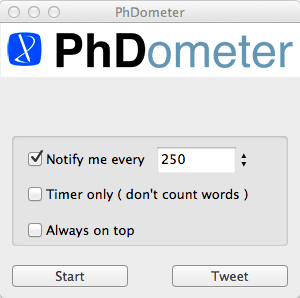 It tracks your writing journey in a way that suits you: time spent writing, words written (ALL words – edit away my intellectual friends!), or time AND words.
It'll spur you on by marking your writing triumphs, and when you finish a session, it lets you show what you've achieved by linking to your Twitter account (you can even include a hashtag like #acwrimo or #acwri to share your success with your global academic writing buddies).
Sometimes academic writing feels like one step forwards and three steps back, the PhDometer shows you that it's ALL progress!
***
Here at PhD2Published we're passionate about being free and open with advice about all things academic. Initially we gave away the PhDometer for free to all participants in AcWriMo 2012. We're now hoping that if you buy this app (for just £2.99) we can recoup a few of our costs and continue our work on your behalf.
( Requires Mac OS X 10.7.4 ( Lion ) and later or Windows XP and later )
The PhDometer is a collaboration between PhD2Published and designer Sam Beddoes and is inspired by the awesome 2012 AcWriMo team! We'd love your feedback so please leave your comments below. If you have any problems with functionality just let us know.
---
System Requirements
Mac Os X 10.7.4 ( Lion ) and later or Windows XP and later
Mac Os Installation
– Unzip PhDometer-mac-20131216.zip
– Copy the contents to your Applications or Utilities folder
– So that the PhDometer can track your keystrokes you must enable Accessibility access to the keyboard.
On Lion and Mountain Lion: open 'System Preferences' > 'Universal Access' or 'Accessibility' and check 'Enable Access for Assistive Devices.
On Mavericks: when your first launch the PhDometer you will be prompted to open the system preferences to allow access. Click on the 'open system preferences' button and find PhDometer in the 'Accessibility' list and check it. Quit and relaunch the application. If PhDometer does not appear in the list open System Preferences' > 'Security & Privacy', navigate to the 'Accessibility' list on the 'Privacy' tab, drag the PhDometer application onto the list then check it.
– Double click PhDometer.app to run
– Because the PhDometer is not being distributed through the App store you will have to provide permission to run when prompted or open 'System Preferences' > 'Security & Privacy' and Allow apps downloaded from Anywhere.
Windows Installation
– Unzip PhDometer-windows-20131004.zip
– Copy the contents to a convenient location
– Windows 8 users must unblock the PhDometer before running the application for the first time.
Right click 'PhDometer.exe' and select 'Properties' from the menu. Click 'Unblock',
– Double click PhDometer.exe to run
Support
If you have any problems or queries then contact us at http://www.phd2published.com/contact/