 Posts by Janice:
January 25th, 2017

Dr Christopher Hill is a creative writer, who works in the field of academic writing as both a teacher and researcher. Originally from New Zealand, he has spent over a decade living in Hong Kong, Indonesia and Singapore. Chris has a passion for the histories and cultures of the Asia-Pacific region, which form the inspiration for his writing in the form of essays and a novel that is currently in progress. He currently works as a lecturer at the Communication and Language Centre at Nanyang Technological University, Singapore where his research focuses on pedagogical strategies for the teaching of writing. He is currently focused on developing a study investigating the transfer of learning from writing courses to students' specific disciplines. This is his forth and final post for the series. His twitter handle is @chrishillnz.

In David Bale and Ted Orland's 1993 book, Art & Fear they describe a study in which a ceramics class is divided into two halves: one half of the students are asked to focus on producing a large quantity of work, while the other half is tasked with producing a small amount of high quality work. The notable result of this study was that not only did the first group produce the most work, but also the best work.

This example illustrates the psychology of human productivity. By concentrating on quantity as opposed to quality one can be produce better work and greater volumes. This example is drawn from a creative field, so does a quantity over quality mind-set work for more general academic research?

Bill Gates is quoted as saying that 'most people overestimate what they can do in one year and underestimate what they can do in ten years.' However, the opposite holds true of many academics. We often plan our academic goals and careers in the long term, but are sometimes guilty of assuming that writing and researching takes a long time. After all, a PhD takes years to write, and this instills within people the notion that good research and writing should take forever.    

One of the eye opening experiences about academic writing month #AcWriMo is realizing how much you can get done when you focus on producing a large quantity of work in a short amount of time. It involves reimagining the potential of your output by focusing on quantity and setting strict deadlines. If you took part in this year's event, you may already be beginning to think about the possibilities of sustaining November's yield throughout the year, or at least between semesters.

David Hare offers some great insights into this topic in his article here, and makes the important observation that for many researchers it's not just a case of increasing word count but also transforming ideas and existing projects into publishable and presentable work. Dave also has suggestions for developing a publishing strategy here. Whether you are building your first strategy spreadsheet, or revisiting an old one, keep in mind Cyril Northcote Parkinson's famous quip that "work expands so as to fill the time available for its completion." By setting challenging goals for your academic output and combining this with a good research and writing routine you can sustain your #AcWriMo habits throughout the year.

But what about the quality? The quality vs. quantity axiom assumes that one prohibits the other leading many of us to focus on quality. However, as the ceramics class example illustrates, this need not be true. A frame of mind that focuses on quantity involves re-evaluating what you are capable of, and, through repetition, improving the quality of the work you produce rather than compromising it.

While not all academics are perfectionists, it would be fair to say that academia as a profession is one that lends itself to perfectionism. If you set good habits with your research and writing, then concerns about the quality of the work shouldn't be an issue. For example, by sharing your writing or collaborating with others you can use feedback as a barometer for the quality of your output.

Remember also that focusing on quality may not only result in lower output but also lower quality work. For years I approached research and writing at a snail's pace. I simply assumed that I was slow or not as smart as my swifter colleagues. We also often blanket these types of issues with excuses: teaching, administration and life always seem to get in the way of our research. But as #AcWriMo demonstrates when the goals are set and the determination is there, somehow you just get the work done.

So are there any limits? A mathematician colleague of mine recently lamented that there are only so many theorems a human being can produce in a year and hence a limited number of publishable papers that can be originated from them. But on the other hand, why let limits constrain you? There is nothing to be gained from placing conscious ceilings into your research strategy. Aim high and even if you don't hit all your targets your likely to beat what you could produce with a 'quality-first' mind-set.

Ensure that you exploit your work for the most publishable opportunities as possible. Over the course of my studies I queried several of the most distinguished professors at my university and all of them agreed that leveraging every project, study and experiment for a maximum number of publishable articles was crucial to their success. This 'waste not, want not' philosophy guided each of them to great achievement.

There is one caveat to consider when focusing on quantity. In your drive for more output don't get caught into thinking about publishing in contexts that won't advance your career, because it seems easy and you want to produce more. In her excellent book, The Professor Is in : The Essential Guide to Turning Your Ph.D. into a Job, Karen Kelsky notes that many young academics 'squander the best years of their academic lives on worthless (for the purposes of the job market) publications such as book reviews, conference proceedings, and chapters in edited collections that a) never see the light of day, b) take endless years to get published, or c) get published but only in obscure hardcovers that even university libraries don't buy.'

In other words, in your pursuit of greater output keep your focus on the best journals and conferences within your field. If you need further convincing take China as an example. According to a recent article by Changhui Pen in Nature. China's total output of academic publication is now ranked second in the world, behind the United States. However, in terms of citation numbers it is ranked ninth equal, a statistic that dampens the country's great strides in research over the last decade. The same holds true for academics, embracing a mind-set of abundance must be matched with a desire to produce the best work.

January 18th, 2017

Dr Christopher Hill is a creative writer, who works in the field of academic writing as both a teacher and researcher. Originally from New Zealand, he has spent over a decade living in Hong Kong, Indonesia and Singapore. Chris has a passion for the histories and cultures of the Asia-Pacific region, which form the inspiration for his writing in the form of essays and a novel that is currently in progress. He currently works as a lecturer at the Communication and Language Centre at Nanyang Technological University, Singapore where his research focuses on pedagogical strategies for the teaching of writing. He is currently focused on developing a study investigating the transfer of learning from writing courses to students' specific disciplines. This is the third of four blog posts he will write for the series. His twitter handle is @chrishillnz.

It's the long holiday weekend and everyone is posting their day on Instagram while you are chained to your desk grading your students work. You tell yourself it's worth it. Your students' written work deserves your detailed analysis and feedback even if it means sacrificing your holidays.

The day arrives when you finally return said work to your students. You watch in horror, as students glance at the grades on their assignments and then shove them in their bags. Your comments succumb to the darkness never to be glimpsed again.

It was after one such episode that I started to rethink my approach to feedback. Clearly, something wasn't quite working. Perhaps, my feedback was arriving too late, and maybe what I had to say or how I was saying it wasn't resonating with my students. I began searching for new strategies for writing feedback. I found inspiration in an article on written feedback by researchers Chris Glover and Evelyn Brown, who point out:

'Where feedback is given, its prime function is to inform the students about their past achievement rather than looking forward to future work.'

I had always adhered to the traditional model of imparting my "expertise" on students' work. Before students submitted their work, I would review drafts and offer comments when solicited, but would reserve most of my feedback for after an assignment's submission.

The idea of reversing this approach and giving feedback for future work rather than past achievements was one that resonated with me. I also had in mind a method which would enable students to take feedback into their own hands, so that it wasn't just me imparting knowledge, but student's discovering it for themselves. Finally, I wanted to incorporate blended learning and enable students the flexibility to interact with each other within and without the classroom.

With these goals in mind I hoped that feedback would be less about me defending a grade and more about students learning and engaging as they thought and wrote. I decided to trial these strategies on a first year writing assignment – an argumentative essay by asking my students come up with an argumentative topic in the form of a statement or question and a thesis outlining their position.

The students posted their topics and statements onto the announcement section of our class Blackboard (the online platform not the chalkboard). I asked each class member to give critical feedback to one other student by analysing their topic and statement and assessing whether it was arguable.  

Although I chose to use blackboard any online platform would have worked: Canvas, Turnitin, Google docs and Facebook could all be employed for this type of activity. With educational technologies there is no perfect bullet for solving education challenges.

A mistake I made early on with blended learning was to try to fit my classes and goals around the technology. Instead, I now think about how technology can help achieve the learning outcomes I set for the class. In this case, I simply wanted to give the students a virtual space to share and critique their ideas and blackboard served this purpose just fine.

The results of the activity were encouraging. The students' feedback on each other's work was insightful and accurate. Colleagues had warned me of the time danger that these type of activities can involve. For example, it can be easy for an educator to lose hours giving feedback on an endless list of comments.

To avoid this, I told the students I would only give them feedback via email if I thought they were off track. I then looked through the statements and the peer feedback comments and identified a few outliers 4-5 students in a class of 25 whose comments or feedback confused or astray and offered some suggestions. I then asked these students to re-post/re-critique afterwards.

An unexpected effect of this trial was that some students put some extra work in and added claims to their topics and statements, and their peers in turn gave feedback on whether these claims were strong or weak and some even come up with counter claims. This was not planned at all, but it got me thinking about how to expand the approach further.

As a result, I am planning to expand the activity, so that it becomes a weekly homework activity in the month running up to the submission date. Students will upload a topic and thesis statement, followed by claims, and then counter claims and brief outlines of examples to support claims. Each week students will offer their peers critiques of these posts, guided by some questions and approaches we study in class. It would also be possible to have students give feedback on entire drafts of each other's work depending on your university's policies. To ensure my students stayed motivated I let them know their peer feedback would go towards their class participation grade.

My initial impression of this experiment is that my students have produced better work. Previously, I often had a few students who submitted assignments that weren't arguable, were off topic or poorly structured. By employing this feedback for future work approach I saw an instant improvement.

The process of giving feedback and working through the stages of writing in steps, also helped to enhance the students understanding of academic writing processes and meant that even if they decided to write the essay at the last minute, a lot of thought and effort has already been put in. They had been critiquing other's work for several weeks and had been thinking about their own topic, had a clear structure, and in some cases, examples to work from.

This type of activity can be implied to a wide variety of writing contexts simply by thinking of strategies for putting feedback in students' own hands, making sure that the feedback happens for students' future work and giving students opportunities to participate both within and without the classroom.

In most cases university policy around the world dictates that there still must a grade and a justification, so no promises that this approach will save your holidays, but possibly at least you can grade with the confidence that your students have already discovered much of the feedback they really need.  

---

Glover, C., & Brown, E. (2006). Written Feedback for Students: Too much, too detailed or too incomprehensible to be effective? Bioscience Education, 7(1), 1-16. doi:10.3108/beej.2006.07000004

January 11th, 2017

Dr Christopher Hill is a creative writer, who works in the field of academic writing as both a teacher and researcher. Originally from New Zealand, he has spent over a decade living in Hong Kong, Indonesia and Singapore. Chris has a passion for the histories and cultures of the Asia-Pacific region, which form the inspiration for his writing in the form of essays and a novel that is currently in progress. He currently works as a lecturer at the Communication and Language Centre at Nanyang Technological University, Singapore where his research focuses on pedagogical strategies for the teaching of writing. He is currently focused on developing a study investigating the transfer of learning from writing courses to students' specific disciplines. This is the second of four blog posts he will write for the series. His twitter handle is @chrishillnz.

You dedicate 3+ years of your life to graduate studies that promised to make you an expert on something. But what happens at the end when you can't get a job, or you don't care anymore, or you feel like a change? The question of what to do next, can be a little scary.

Last week, I wrote about transitioning countries, and in this article I explore some of the reasons behind why you might change or develop a new academic specialization and a few strategies that have helped me make the transition from one specialization to another – because, yes as crazy as it sounds, I did change countries and fields at the same time.

There is an antiquated culture in many university departments around the world that believes if you can't make it in your specialization you are a failure. There is also a huge amount of pressure on PhD graduates to transform into tiny little diamonds of expertise. There is a logic behind this model, we can't be experts in everything. In the past, if a graduate didn't make the cut he or she was discarded. There was no discussion of alternative careers or of new possibilities, you were deemed a failure and that was that.

However, there are now communities of PhD graduates, researchers, and professors who are reinventing themselves in new ways. The term "recovering academic" has been a prominent one over recent years. The twitter hashtags #postac and #altac feature inspiring stories of academics that have found new paths.

For those not quite ready to walk the plank and take a dive into the unknown, academia offers opportunities beyond the specialization you trained for. This is because academia is changing; the new technological landscape of education and research is evolving new roles and possibilities. Among these are new interdisciplinary fields. You may not be able to switch from psychology to biology without further training but as a psychologist you might be able to work with a biologist on an interesting project that braids the two disciplines together.

There is also the prospect of developing a second stream of research or moving into a related field as I have recently done. Like many PhD graduates I had a tough time after I finished my degree. My family had just survived my studies, and so, I wasn't about to drag them through more lean years as a post doc. I needed a job. This required an honest assessment of my career prospects.

I think it's fair to say that I am an extraordinary academic, but not in the way that you might think. If you were to pass my CV to your supervisor, or a colleague they would probably shake their head and mutter, "There's a cautionary tale, whatever you do, don't be that guy."

That's because I never intended to be an academic, so I didn't exactly plan my career. Over the last twelve years I have earned degrees in philosophy, communication studies and literature and have worked in a variety of institutions teaching a kaleidoscope of humanities subjects from creative writing to business English. My CV embodies the chaotic lights and noise of a Hong Kong night market in full swing.

During my PhD studies I dreamed of being a literary theorist. But after one year and 50 odd job applications I knew that this wasn't going to happen. Not only was my CV a mix-and-match collage, but I wasn't exactly setting the world alight with trailblazing research. Universities wanted focused academics, with degrees from prominent universities and a small ton of journal articles. I felt frustrated and a failure.

The 'a-ha;' moment came after many months when I started thinking about myself and my CV differently. After all, Hong Kong night markets are wonders to behold. I thought about how my ridiculously eclectic CV might be relevant to jobs in academia beyond literature. Often we think we have attained expertise in a subject and ignore all the valuable skills that we learn completing a PhD such as research, computer and communication skills along with project management to name a few. These skills are valuable and can help you move into administrative or consulting roles and new areas of research and teaching.

To guide me in a new direction and reimagine my career, I spoke with senior colleagues, my supervisor, friends and family. They pointed out that because of my experience I knew a lot about writing styles in different disciplines and genres and could teach a variety of different kinds of students. They also pointed out that Academic English was in high demand among universities, especially in Asia – my adopted home. I had worked for a couple of years at an editorial assistant at an Academic English journal so I had some ideas about this field even though the applied linguistics research it involved was very different to literary theory.

It was clear that I wouldn't get a research track job in this new discipline. Research track was a dream installed in me since my first days of graduate school. It was and remains hard, but I had to let this dream go at least for a while. I set my sights on academic English lecturing jobs. I interviewed for a few and accepted a job at a good university. Although my new role was primarily concerned with lecturing I was also expected to do research, so the door was still open.

Six months later and I am on my way to developing a second stream of research. I am still writing up articles from my PhD, but I have also just finished my first grant application for an Academic English research project. I won't pretend it's been easy, teaching is one thing, but there is a steep learning curve to the research. I am embracing it anyway, jumping in the deep end and have been surprised by how much overlap there is between my existing skills and knowledge and the new field I am working in.

Nobody said it would be easy, but in the words of the philosopher Bowie, "turn and face the strange." Consider all the things that are "wrong" about your skills and experience and see how they might be right for other specializations and opportunities.

January 4th, 2017

Dr Christopher Hill is a creative writer, who works in the field of academic writing as both a teacher and researcher. Originally from New Zealand, he has spent over a decade living in Hong Kong, Indonesia and Singapore. Chris has a passion for the histories and cultures of the Asia-Pacific region, which form the inspiration for his writing in the form of essays and a novel that is currently in progress. He currently works as a lecturer at the Communication and Language Centre at Nanyang Technological University, Singapore where his research focuses on pedagogical strategies for the teaching of writing. He is currently focused on developing a study investigating the transfer of learning from writing courses to students' specific disciplines. This is the first of four blog posts he will write for the series. His twitter handle is @chrishillnz.

In this age of adjunct academic positions and relentless competition for jobs, the temptation to cast off for exotic shores and low-tax salaries is an alluring one for many young academics. Before taking that leap consider this testimony on the trials and tribulations of transitioning between academic jobs in different countries.

In 2005, fresh from my master's degree, I decided to leave my hometown of Auckland and take my OE (Overseas Experience). The OE is a mandatory rite of passage for those of us who grow up closer to Antarctica than the rest of the world. At the time I was convinced that London did not need another Australasian, so I headed in the direction of Shanghai convinced that it was destined to be the New York of the 21st century. As so often happens with adventures I never made it, and still haven't ever been to Shanghai. Nonetheless, I also haven't returned home either. Instead, I have lived and worked in universities across Asia.

People often ask me "Why did you choose to live abroad?" There is often a subtext to this question: "You grew up in one of the most beautiful countries on the planet so why the hell leave?" It can be difficult to offer an honest answer. In such situations I am reminded of a quote from The Odyssey which roughly paraphrased goes something like this: "A person who has been through bitter experiences and travelled far enjoys even his or her own sufferings after a time." I will admit that living abroad has been hard for me, but in the end worth it. And I have managed to get by focusing on one challenge at a time.

So what kind of problems can you encounter working overseas? There are a number of professional challenges involved in transitioning between academic jobs. However, academics that make the move often overlook the injuries to their health and happiness that such new environments can present.

As an example, I consider myself a person who lives reasonably healthy, avoids excess for the most part, and grew up without any significant health issues or allergies. Yet each time I have moved country my body has been dealt a brutal blow. In Indonesia, within a 3 month period, I suffered dysentery and 3 separate bouts of food poisoning that left me 12kg lighter and with a chronically irritable bowel that took several years to recover. In Hong Kong the pollution brought on a lengthy bout of bronchial asthma. I recently moved to Singapore and my first semester of teaching has coincided with an extended battle with pneumonia inspired, my doctor tells me, not by age but by allergies and the climate.

Matters of the heart can also be difficult for academics transitioning to new countries. Trailing spouses of academics often learn too late that finding work can be difficult and even impossible in certain places. Life is not necessarily easier for singletons either. For every tale of cross-cultural love you might hear there are several other stories of souls left lonely and distraught by the enigmatic dating scenes of foreign shores. While these matters are not limited to academics they merit mention because even when your health and sense of wellbeing are tested you are still expected to bare the intense intellectual demands of our profession.

There are a number of often hidden professional challenges you can face working in a new country. Job interviews and university tours often don't reveal the nuance of a foreign university's culture, which can quickly leave newly hired academics perplexed and estranged from their employers. In Asia, for example, the bureaucratic nature of many universities can make you feel like you are trapped in a scene out of Terry Gilliam's Brazil.

In the UK, North America and Australasia your specialisation and research are respected to a certain extent. You expect to be hired to do research and teach on subjects related to your own field. In overseas universities this is not always the case. Academics are frequently expected to be more flexible: "Literary theorist you say? This makes you a perfect candidate for developing our English for business communication course. By the way, what do you know about social science?"

While living in a foreign country, social, cultural and language differences can impact your everyday interactions with students and colleagues, and this can take a toll over an extended period of months or years. Some find these experiences engaging and invigorating, while others feel as if their souls are being sapped of vitality.

Whether you see working overseas as a short jaunt or a long term move, consider carefully your exit strategy. My career outside New Zealand has involved living and working in three different countries and developing a specialisation in an area that is not in particularly high demand back home. I may find it difficult to get work should I ever decide I want to return to New Zealand one day. However, I have other friends and colleagues who carefully managed the development of their research, bided their time and leveraged their overseas experience for better positions on their return home.

For all the laments and sufferings described above, there are many advantages to moving overseas. In places like Asia and the Middle East salaries are often higher and taxes low. Universities may have more money for conferences and grants which can provide you more opportunities to develop your research. Living in a new country offers the chance for you to establish new perspectives and insights into the world and your own work. And, if there is anything that I am truly grateful for it is the friends I have made along the way—a network of people that now spans the globe. A group who have helped shape me into a better human being than the one that left home.

November 24th, 2016

Astrid Bracke writes on twenty-first-century British fiction and nonfiction, ecocriticism, narratology, climate crisis and flood narratives. Her monograph, Climate Crisis and the Twenty-First-Century British Novel, is under contract with Bloomsbury Academic. This is her final post for AcWriMo 2016.

So far in this series I've written about the difference between writing a dissertation and writing a book, about planning the book and about the actual writing. In this final post I want to talk about two things: when things don't go as planned and, related to that, communicating with your editor(s) throughout the process.

Although I loved working on the book, around seven months into the process my work life outside of the book became increasingly difficult. Looking back things hadn't been going well for months: I had struggled with boredom – even though I kept busy – and disinterest in teaching, my colleagues, basically everything. And I just couldn't stop talking about it: about the things that went wrong, about the things that annoyed me, about the issues that I couldn't stop thinking about. Sunday evenings became horrible: I'd sit at home stressed and worried about the week ahead. I suffered headaches and a lingering sense of nausea, had nightmares about work, felt tension in my legs and neck, and became much more emotional than I usually am. The turning point came when one day I spent all of a lazy Saturday breakfast with my boyfriend complaining about work, did the same over lunch with a friend, and then over drinks with another friend. By the evening I realized that something was wrong.  

This story perhaps really isn't part of a series on 'how to write a book'. But at the same time it is. It's important to me, though difficult, to tell this part of the story. Yes, I enjoyed writing the book, it went well and I am pleased with the result. But at the same time I also ended up having to take a break from writing and suffered from burnout. I know – and I've learnt since – that many, if not most, people working in higher education and academia experience extreme stress or burnout at some point. It seems to happen especially to people early in their career. Particularly people in their (late) twenties and thirties experience high levels of work-related stress. What weighs on many of us is the stress of trying to live up to high standards – usually our own.

By early May I was off work sick. Even though my burnout was not related to my book, I ended up taking off time from writing as well. Originally I had agreed to submit the finished manuscript to the publisher by the end of July. I was on schedule when I became ill, but had to ask for an extension. Many authors end up needing an extension on their book – either because of illness, because of work obligations or simply because of not being able to finish on time.

It's important to be realistic when you draw up a plan – either at the beginning of the project or when asking for an extension. No one is served with you making a plan that is too optimistic. If you'll only be able to submit the book on time if you work faster than you usually do it's not a good plan. And even when you've been realistic in the beginning, things might happen that keep you from finishing on time. Sometimes people don't communicate, or communicate too late with the publisher. They are ashamed or try to persuade themselves that they could still finish as agreed. This strategy really helps no one and will put you under (even) more pressure. Also, publishers depend on authors delivering their work on time: they draw up publication schedules in advance, and when an author is very late in asking for an extension this can affect the schedule.

Once I realized I had to take a break from writing the book I contacted the publisher and the series editors. I told them I was ill and that I would be unable to deliver the manuscript on time. But I also, importantly, gave them a date on which I thought I'd be done (three months after the agreed date). This was a bit of a gamble: in early May I honestly didn't know for sure that I'd be feeling better, but with being off work and the summer coming up I assumed that I'd finish the book by the new deadline, September 30th.

It's been two months now since I submitted the manuscript. It's currently at the reviewers, with publication set for 2017. The process has been good overall: I enjoyed writing the book, and am generally pleased with how it turned out. At the same time I also had to deal with things not going as planned. What saved me in the end was drawing up a new plan and being clear with the publisher about the delay. And now, all I have to do is be patient for the reviewers' comments and the published book!

November 17th, 2016

Astrid Bracke writes on twenty-first-century British fiction and nonfiction, ecocriticism, narratology, climate crisis and flood narratives. Her monograph, Climate Crisis and the Twenty-First-Century British Novel, is under contract with Bloomsbury Academic. This is the third of four blog posts she will write for AcWriMo 2016.

So you've drawn up a plan for the book – now it's time to write!

When I started I thought I knew really well what I was going to write. After all, I'd written a detailed book proposal. But while I was writing I decided differently on a few things – and, to my surprise, discovered connections between chapters that I hadn't seen before. I'll discuss that in this post, and share my revision checklist for making the manuscript ready for submission.  

It's fine and totally normal to divert from the proposal you submitted. Even though the publisher offered you a contract based on it, it's really not set in stone. I had planned to write four chapters, each on what I call a narrative of nature. Beforehand I had decided that the chapters would form companion chapters: pastoral and urban were a pair, and so were environmental collapse and polar. But I discovered another connection between the chapters: in both pastoral and environmental collapse narratives, time plays an important role. Urban and polar narratives share an emphasis on space.

A bigger change was that I decided to take out two novels and replace them by two others. I doubted for a while whether I would run this change past my editors. The novels discussed in a book also partly determine the audience so taking out an important author like Ian McEwan might make an impact. I ended up discussing it with a colleague who has experience in publishing and decided not to tell my editors. If I'd wanted to make a bigger change, though, like taking out or adding a chapter, I would certainly have told them.

When I started I believed my focus would be on four narratives of nature that show how climate crisis is imagined is twenty-first-century British fiction. As the project progressed it slowly became clear to me that the real argument of my book is slightly different. It's not, as I thought, just that these books depict certain narratives, but rather that they participate in and reflect a wider cultural awareness of climate crisis. In practice this meant that at the beginning of every chapter I explicitly referred to a film or other non-literary example to show this cultural awareness, and that I did that even more in the introduction. My book now starts with a reference to Leonardo DiCaprio's 2016 Oscar-speech.

When I drew up my plan I made sure to include plenty of time for revision. In general I don't edit as I write – I very much believe in the principle of shitty first drafts and try to keep my internal editor at bay while I'm writing.

I'm a list-maker so naturally I made a revision-checklist for myself:

Make back-ups in more than one place!

First read-through and edit, paying attention especially to structure;

Second read-through and edit, with special emphasis on the argument on section and sentence level;

Revision based on first reader's comments;

Revision based on feedback of other scholars in the field (this revision includes the next steps);

Is the argument of the chapter clear?

Do all sections contribute to the chapter's overall argument?

Does every chapter have a strong conclusion?

Do the chapters contribute to the argument set out in the introduction?

Does the conclusion follow logically from the chapters?

Do the parts of the book taken together feel like a whole? Have I signalled shared themes and other connections between the chapters? Is the overarching argument reflected in each of the chapters?

Final revision: publishers' stylesheet (spelling and punctuation preferences; reference style); final spell-check.

Manuscript ready for submission, including all the preliminaries requested by the publisher.

I left writing the introduction and the conclusion until the very end. First I read all four chapters again and revised based on the feedback I had received. This helped me immensely to get the distance and perspective I needed for the introduction and conclusion. More than once I complained that I thought the introduction was the most difficult part of the book to write (that is until I started on the conclusion and I complained about that…).

The introduction is where you probably make – and write about – most of your choices. This is where you concisely set out your argument, but also where you decide how much you want to write about the wider field, how your book fits in with other work. My book ties in with two fields of literary criticism. Choosing to focus on four 'narratives of nature' means explaining why these four are important. Focusing on twenty-first-century British fiction means explaining why British literature and why twenty-first-century fiction.

The conclusion is really about finding that sweet spot where you don't summarize too much, but still bring together the main points, and showing the wider relevance of your book without going off at a tangent about other directions.

And then, much faster really than I had anticipated, most of the work was done. I put all the chapters in one document and set out to check whether it followed the publisher's stylesheet. Although they recommended using it from the beginning, I hadn't. I ended up writing the four chapters according to the stylesheet I used most often, and had to make the changes at the end. It wasn't too bad though: I was going through the individual chapters again anyway and had made a list for each chapter of the things I had to change.

The publisher's stylesheet also specifies what you should include when you submit the manuscript – not only the text of your book, but also preliminaries (or prelims). Depending on the publisher, preliminaries consist of one or more title pages, a series page, acknowledgements and the table of contents. At this stage you don't yet have to provide the index: your contract will specify if and when you'll need to provide it, generally a few weeks after receiving the final proofs.

Once you've submitted the manuscript it's time to congratulate yourself for pulling this project off. And that's when the wait starts to hear back from the publishers and the reviewers. In my next post I'll write about the final element of writing a book: communicating with the editor(s) and publisher.

November 15th, 2016

Joanna Hare is currently a Subject Librarian at City University of Hong Kong. As a research-practitioner, Joanna's interests include information and digital literacy, research support for Humanities and the Arts, and innovative models of customer service. She continues Dave Hare's series blog posts in the AcWriMo 2016 series.

As a librarian, I often attend presentations by representatives of academic publishers about 'how to get published.' These usually cover broad, basic advice like checking the journal's scope before making a submission and using the correct academic style. One thing that is mentioned is to 'pitch' your article to the editor directly via a query letter. Book authors use query letters and academics can use them too. These letters typically include a brief (usually one to two paragraphs) synopsis of your academic writing, which is then sent to the journal's editor asking if it is something they might publish. You can see a sample here.

Query letters are work. Thinking about them prompted me to reflect on whether they are actually worth the effort and if the letters actually do lead to higher publication rates. To find out, I contacted the editors of a few of the highest ranked Communication journals according to the Scimago Journal Rankings (SJR) and asked them about their thoughts on query letters:  

Steve Jones, editor of New Media and Society, does not mind receiving query letters. However, he makes it clear that he 'cannot "pre-review" manuscripts on the basis of a query, which is something writers often seem to want'. Jones adds that 'there is no advantage to sending a query letter, ultimately, unless an author is truly uncertain about whether a manuscript's topic is or isn't a fit with the journal.'

Jonathon Hess, editor of Communication Education, is 'happy to get letters from people who are familiar with the journal… and are asking about specifics that couldn't be answered by looking online.  But general emails pitching papers for which it's clear the author has no familiarity with the journal aren't a good use of my time.' Hess goes on to say that if after reading the journal's scope statement the author is still unsure if their work is suitable, he would 'prefer that she or he just submit the article rather than sending an inquiry.  It's much easier for me to see the paper and offer a clear response than to try to guess based on a description. I screen most submissions within a week, so authors will find out promptly if the paper doesn't fit or isn't strong enough for review.'

Tuen A. van Dijk, editor of Discourse Studies, says he does not receive query letters that often, which is perhaps due to his journal's practice of pre-review: 'prospective authors get an automatic reply when they submit a paper, in which they are asked to pre-review their own paper on the basis of very detailed criteria of the journals… so they already know what kinds of paper we publish or not.'

Rasmus Nielsen, editor of The International Journal of Press/Politics (IJPP), says 'the majority of the query letters I receive are not very helpful, because they either (a) reflect that the author has not actually read the journal, or just consulted our aim and scope or (b) is trying to flog a sub-standard manuscript. A minority of query letters are interesting and useful for me, but in that case almost always reflect the fact that the author already knows that a given manuscript may not be a good fit for IJPP.' '

So, what should you do?

It is clear from these responses that if you only do one thing before reaching out to an editor prior to submitting your article it is:

Read the journal's aims and scope first!

An editor's receptiveness to a query letter has a lot to do with personal preference, with most stating that they do not mind receiving letters. However, it is critical that you demonstrate that you have an understanding of what the journal is about. You can make this clear in your letter (for example, 'I have read your journal's aims and scope and my work fits these guidelines for reasons A, B and C').

If you are not already very familiar with the journal you are submitting to, I would recommend going further than reading the aims and scope to reading several of the articles published in the journal. This will give you an idea of the writing style and topics covered, and how your article would fit in an overall volume. Referring to specific articles in your email to the editor is also evidence that you are familiar with the journal and committed to publishing with them.

A caveat: in my experience it can be worth reaching out to the editor for advice on writing an article if they are producing a 'special edition' of the journal, such as a special topic or an edition dedicated to a recent conference. The scope and type of article accepted for special editions may be slightly different and the editor might be able to guide you in a direction that is more likely to lead to publication. But of course, check the website to make sure this information isn't already easily available!

Thank you to the editors who provided valuable advice for this post.

November 30th, 2015

A revolutionary optimist and expert procrastinator, Minka Stoyanova subscribes to Wheaton's Law, believes that brie and red wine will solve most of life's problems and likes to pretend she is working towards a PhD at City University of Hong Kong's School of Creative Media.

WHAT'S WRONG WITH MENDELEY — and how to get around it.

Mendeley is by far the best research management tool I have found to date, however there are some aspects of its complete research suite that some users might find challenging.

THE CONS

PDFs

Everything I have mentioned works best for pdfs and can have limited or no functionality for other file types. This means that users might have to convert documents, particularly e-reader formats to pdf in order to reap the full benefits of Mendeley (I find Adobe Acrobat and Calibre to be powerful conversion tools).  

OCR

Additionally, Mendeley has no integrated OCR functionality, so image pdfs (such as scanned book chapters) should be run through an OCR tool (like Adobe Acrobat) before being added to the Mendeley library or the document content will likely not be catalogued by Mendeley's crawlers.  

DUPLICATION

If users want direct access (i.e. not through Mendeley) to their files through cloud servers, but also want Mendeley on any one of their devices to import documents via the "watch folder," duplicate documents will be created in the Mendeley database.  This is because each device recognizes the new content in the watch folder as new, to that device — and thus adds the content to the Mendeley library. As a fix for this, Mendeley does include a powerful tool for merging duplicate documents, but some users might find the process annoying and/or time consuming.  

SYNC

Sync, sync, and sync again.  Mendeley only automatically syncs libraries upon opening the application. Thus, if one is apt to regularly switch between devices it is prudent to regularly sync Mendeley's library manually – or at least to do so at the end of each Mendeley session.  

ANNOTATIONS

The greatest complaint I have regarding Mendeley's functionality is that annotations made within the body of the text (sticky notes) are not included in the document "notes" section and thus are not included in Mendeley's search function.  These annotations can be exported along with the highlighted text and attached to the document through the Mendeley library, but this does create an extra (and seemingly unnecessary) step in the reading-to-access workflow.

FINALLY…

Despite its small annoyances, Mendeley's integration of robust library features and e-reading capabilities make it a solid option for researchers looking to pull together many different perspectives and to discover the nuanced connections that can emerge from a large body of text.  

[see you at the beach]

November 26th, 2015

Writer. Dancer. Tea Drinker. Idea Wrangler. See more of Dana's work and writing at www.danamray.com

Congratulations! You are just a few days from the end of Academic Writing Month. It has been a remarkable amount of work and effort. Perhaps you made all your goals. I have a confession: I struggle to meet goals. Rarely do I set a word or page count to meet and then actually follow through. Sometimes, that makes me feel like a failure. But the process profoundly challenges me to push into new terrain in the composition and drafting processes. My writing can improve trying to meet new goals even when I fail to meet them; trying to run a mile helps even if we huff and puff and walk most of the way.

Often, it is the process itself that is illuminated and gives the best take-aways from a month like AcWriMo. My words might be weak on the page but I have learned new skills and tools to keep pushing forward with writing.

Trying Scrivener has been a useful lens on my writing process in a deeper way that I had reason to consider before. Years of using Microsoft Word make the first drafting steps seem familiar. Familiarity can trigger all the old habits and hang-ups and anxieties before the first word is even in the document. There are things that a new, shiny tool cannot solve: drafting aversion, anxieties, stress shut downs, revision nightmares, etc. Fundamentally, Scrivener cannot solve the person demons and hang ups that we each carry into the lonely process of drafting. But Scrivener, or other alternative writing tools, can thwart what we expect in the first writing moments. With an altered first step, we have the chance for a new outcome.

Scrivener, as a new and unfamiliar writing space, made it easy for me to notice some of my quirks, like the myriad of ways I dart to distraction instead of drafting. Writing can be an anxious process for me. I have had to face my fears about writing in a new way than I had before. I have had to face the things that prevent me from sitting down and getting the work done.

In conclusion, Scrivener did not become my new best friend. But any new tool, if we give it the chance, can jolt us out of our detrimental habits. New tools can shine a little light on the more miserable parts of our inner academic world, the difficult places where the shiny ideas and associations that got us into scholarship are not as alluring as they once were. Recognition is the first step toward addressing the far more difficult inner work that a new tool cannot ever solve. Tools are only as useful as we make them. It takes time and discernment and some messing around (and the Longest Tutorial) to figure out what works for us.

I raise a glass to you for your hard work! To Scrivener! To our tools old and new and to all the light they shine!

Summary of my favorite parts of Scrivener:

Pin board. The ability to shift sections of text around in the document by looking at the note card visual of a project.
Zen mode. Cut the distractions and get 'er done.
Integrating media with the writing process.
Words not pages. Okay, truth be told, I hated this because the pages make me feel like I got somewhere instead of infinite incompleteness. But shifting my measure of success really impacted my conception of the writing process.
Potential for creative and scholarly work existing in the same project board.

November 24th, 2015

Allan Johnson is Assistant Professor in English Literature at City University of Hong Kong.  He is the author of Alan Hollinghurst and the Vitality of Influence (Palgrave Macmillan, 2014) as well as articles and chapters on an array of writers including James, Stoker, Conan Doyle, Shaw, Forster, Woolf, Eliot, Cather, Waugh, Doctorow, and Hollinghurst.  You can find ot more about Allan at his website: http://thisisallan.com, and follow him on Twitter @thisisallan.  Below is his reflection of writing habits and systems.

During AcWriMo 2015 I have been sharing some of my observations on managing large-scale writing projects such as books, observations which have grown largely out of the initially difficult transition I faced between finishing my first book and then moving on to the second.  In previous weeks I have written about managing the different forms of energy required in a large-scale project and measuring and evaluating progress.  This week I will be rounding things off with a summary of my weekly review process, which ties together each of the elements I use in project management and helps keep the whole system running smoothly.

My own weekly review is based partially on David Allen's GTD Weekly Review, but has been adapted heavily and transformed as I began to explore the specific requirements of advanced long-form academic writing.  I have set up each of the following tasks as scheduled tasks in Things, where they appear each Friday to make sure that I keep on track.  Although there are several other steps in my weekly review related specifically to teaching and administration, below are the elements related directly to my research, which, anyway, forms the bulk of my weekly review.

Process Evernote Inbox: I have been a committed Evernote user for years (and am, indeed, the Evernote Higher Education Ambassador), so all of my devices, browsers, and RSS readers have been set up to easily send notes to Evernote.  By the end of the week, my Evernote Inbox will have a number of articles, websites, book reviews, or blog postings that may or may not be related to my research at hand.  I first scan through my Evernote Inbox and assign relevant tags as necessary and if any particular note will need further attention for my research project, I create a task in Things to remind me to do that next week.

Review Projects and Yearly Planning Calendar: After processing my Evernote Inbox, I move to my projects currently underway and my yearly planning calendar which organises all writing tasks for the year.  By measuring and evaluating progress of my work during the week I am able to assess if I am still up to date with my plans for the year and can make changes as necessary.

Review Upcoming Tasks: I make a great effort to update iCal throughout the week so that I have a good record of precisely how much time I spent on various tasks, rather than just a reminder of how much time I had planned to spend.  Reviewing the past week can provide good insight into the rise and fall of energy levels, and may suggest the need for reassessing writing and research plans for the coming week.  This might create additional tasks to add to Things such as a trip to the library on Monday morning for secondary sources, or requesting a particular article not available through my library's databases.

Process Things Inbox: By this point in my weekly review, my Things inbox has accumulated quite a few new tasks.  Many of these might not be 'tasks' at all, but really events that can be scheduled in iCal (for example, a library visit is an event rather than a task because it can be scheduled for a specific time).  Once I have scheduled all events in iCal, I then move to the remaining tasks, which I tag as necessary and advance through Things in a typical GTD task-management process.

Review Upcoming Week: My calendar for the coming week will by this point be quickly filling up with repeating events (e.g. classes, department meetings) and newly scheduled events.  Now is the time that I can move around and adjust sessions for drafting and rewriting—I have already set this week as weekly repeating events, so now it is just a matter of moving them to where they best fit in my schedule.

Review Future Objectives: I always like to end my weekly review (and, thus, my Friday afternoon) with a brief review of my future goals and objectives, such as plans for a new article or ideas for a conference presentation.  I keep these as tasks in the Someday folder in Things, and it is always useful to review my new steps and to keep these in mind as I move forward into the following week.

November 23rd, 2015


A revolutionary optimist and expert procrastinator, Minka Stoyanova subscribes to Wheaton's Law, believes that brie and red wine will solve most of life's problems and likes to pretend she is working towards a PhD at City University of Hong Kong's School of Creative Media.

Last time on Minka Talks About Mendeley…

I suggested what I believe to be the two greatest challenges facing academic researchers:

1.  Going Digital: Freeing oneself from the paper prison..

2.  Actually Knowing Things.

MENDELEY THE LIBRARY INTERFACE

When I first encountered Mendeley upon starting my PhD, I was immediately excited by its potential to overcome both of these challenges.  However, at that time, it's lack of a mobile application (for Android) forestalled its ability to truly allow me to "go digital" — as I believe reading is an activity best completed away from one's desk. But, even without on-the-go reading support, Mendeley's library interface proved a powerful tool towards solving the second academic challenge: knowing (or more correctly — remembering).

Mendeley's library interface is not unlike its similar open source alternative Calibre. Though, the design is (in my opinion) a bit more clean and academic.

[I don't need no stinking hearts!! wait, maybe I do]

Furthermore, I find the interface and the functionality to be more intuitive in Mendeley than in Calibre. Thus, while Calibre's large library of open source expansions/plugins probably make it the more powerful digital library, Mendeley's ease of use and ease of setup makes it the superior library manager for me. After all, time spent learning software is time not spent reading papers!

[Because even academics need time for the beach]

[Calibre is still a powerful conversion and publishing tool, and is the most convenient way to strip DRM and convert proprietary reader formats to alternative formats… if I were to do such things — DRM Buster, pirate ship]

Another key feature of Mendeley's library is that Mendeley allows users to attach external documents to their original documents.  In this way, notes exported from other readers, external notes documents as well as other papers or reviews can be associated with a given library document. Thus, each document in a Mendeley library can encapsulate and make accessible the entire milieu of personal research a user has completed around a given text.  

In support of my personal research methodology however, Mendeley's real potential arises from the powerful integration of three basic library features. The three features behind Mendeley's power are: watch folders, flexible organization options, and its comprehensive and powerful search tool.

[all of the world's knowledge at my fingertips; itty bitty interface!]

WATCH FOLDER

Mendeley's watch folder function streamlines the research process by automatically importing and analyzing new files. Once a user sets up a watch folder (which can be any folder(s) on the user's computer), any documents added to that folder are detected and automatically imported into the Mendeley library. Thus, when I am collecting research texts, I need only dump them in a single (completely unordered) folder and they automatically appear in my Mendeley library.

ORGANIZATIONAL FLEXIBILITY

This functionality merges perfectly with Mendeley's second great library feature, its organizational flexibility. Mendeley allows users to organize their content in a variety of ways including: by tags, in folders, or through citation data or other document metadata. Mendeley's approach to documents as database objects — which allows objects to hold multiple tags or appear in multiple folders/subfolders — empowers users to rapidly create nuanced lists of subject-specific content without having to build completely new and cumbersome operating-system-based file plans.

[I just spent all week organizing my documents — I am totally ready to research now!]

POWERFUL SEARCH FUNCTION

While the ability to create flexible file systems is likely the most basic function of any library application, Mendeley's powerful internal search engine provides the real functionality that makes the organizational system shine. Mendeley searches access all of documents' metadata (citation information) as well as text content, and user notes. As a result, a simple keyword search within one's own library can quickly create highly nuanced document lists that reveal not only connections within the document's content but also within the user's notes on those documents. This kind of search tool — that goes deep into the content of the documents as well as any notes or other documents attached to them — allows users to make the kind of cross-document, cross-authorial connections that would normally require an extremely deep understanding of a large number of scholars and texts. 

[I require all the papers that are about referencing underwater basket weaving … ven diagram!]

[Thus, Mendeley is basically my brain.]

[crystal ball: Oh great Mendeley… tell me what I thought in 2012]

MENDELEY, THE E-READER

All of the above-mentioned functionality had already made Mendeley an important part of my research system before June of this year. But, despite my regular use of Mendeley's library function, I was still anxiously awaiting the release of their Android mobile application. The desktop e-reader is a solid interface with a simple but effective system for note-taking, highlighting, and annotating texts. However, without the ability to read on-the-go, Mendeley was never going to liberate me from my paper prison.

[so many books!!! schlepping]

I am happy to report that, despite its somewhat delayed release, Mendeley's mobile app is everything I expected and then some.  All of the functionality from the desktop version seems to have been replicated in the mobile version with the added benefit of downloading only those documents which you are actively working on — thus protecting the limited resource of device memory while also allowing academics to have access to all of their documents. Downloaded texts can be read on or offline and changes made will be synced to the cloud once Internet connectivity is again available.  

By combining a strong a library and citation managing tool with an e-reader Mendeley makes itself a one-stop-shop for my research needs.

In the next instalment though, I will discuss the things I don't like about Mendeley and some workarounds I have come up with for these challenges.

November 19th, 2015

Writer. Dancer. Tea Drinker. Idea Wrangler. See more of Dana's work and writing at www.danamray.com

Composition rarely involves just text on a page. And increasingly, in a digital world post Roland Barthes, we learn to read more than words on a page. Our texts are not simply words but a compendium of different media and sources. And this makes the long academic project incredibly difficult to organize and tackle. It is not a matter of merely arranging our sources to analyze but sorting them and noting them as we construct our thoughts on the page. The writing process is the act of analysis. How can we write in a way that gives us full access to the texts and ideas that motivate us while focusing on getting the words on the page? Can Scrivener be the tool that enables a new kind of writing process?

What Scrivener can do:

Scrivener creates a writing process that exists alongside constant reference to digital sources. It does not expect you to write constantly flipping back and forth between source documents and your writing process. Various media and text files can be integrated with the writing process. You can add images and YouTube videos and web pages into the Research Folder and easily view them in the split panel frame feature. And really, this is a game changer for the composition process.

Interdisciplinary academics draws on multi-media sources as well as text sources. And this is introduces a whole new realm of possible writing processes. Scrivener can participate in that with the split panel frame that allows the writer to consistently view various references while composing. You don't have to wait until a later stage to begin integrating references and comprehensively analyzing sources.

I imported a term paper on partner dancing in literature as a test run for the feature. Over the past week, I have begun revising the text and considering possible ways to break the original paper into multiple texts for publication. My primary task: I needed to collect and arrange digital dance sources and analyze them during the composition process. It was great to have access to YouTube videos of Regency period dance reproductions right alongside videos of contemporary West Coast Swing "Jack and Jill" competitions. I can play a video and easily type thoughts as I viewed the video. This creates a close integration between my written text and the image I view. I can explore the possibilities of real time response as I write.

Here's the rub:

I wanted to integrate the videos into the text itself and easily format the Scrivener file into a digital form. This would allow video to live right beside the analysis rather than imagining my paper being read only on static print paper. Instead, I imagined research being engaged digitally. And this is where Scrivener ceased to help me.

Scrivener CAN export to flexible forms like html (yay!) and basic .txt files. For those of you in digital humanities or the like, this will give you all you need to move to create a fully digital text with integrated images and media files.

The problem for me is based in my composition philosophy. For those of us without computer know-how, we need formats that allow composition to happen with close integration with media files.  And Scrivener's digital exporting options cannot include images and media files included in the writing text itself.

What I wish Scrivener could do and someone should definitely create:

Integrating images and videos into the text itself in a way that is easily exportable to digital formats. What I mean is this: more scholarly writing needs to include images and videos within the text itself. We need platforms that allow our research to easily format with images and videos rather than simply providing links or screen shots to be inserted later. There is a growing integration of sources and formats that is reflected in both writing process and writing outcomes. The way we construct things is not the same as it used to be and we need platforms that allow composition to exist alongside formatting tools.

Now, I am aware that this is a highly unfair ask of Scrivener. They never claimed to be the solution to a new age of research formatting and text/media integration. Scrivener has only ever claimed to focus on text production, getting those elusive words on the page. Everything about the tool is aimed at that outcome and that outcome alone. Blaming a platform for not being what it never wanted to be is highly illogical of me as a reviewer.

So let's give some kudos to Scrivener for what it does: creating a split frame feature that permits dynamic reading/analysis and composition process. Full integration into digital platforms with our multi-media sources is just around the corner.

November 17th, 2015


Allan Johnson is Assistant Professor in English Literature at City University of Hong Kong.  He is the author of Alan Hollinghurst and the Vitality of Influence (Palgrave Macmillan, 2014) as well as articles and chapters on an array of writers including James, Stoker, Conan Doyle, Shaw, Forster, Woolf, Eliot, Cather, Waugh, Doctorow, and Hollinghurst.  You can find ot more about Allan at his website: http://thisisallan.com, and follow him on Twitter @thisisallan.  Below is his reflection of writing habits and systems.

Over the past two weeks I have been writing about some of the difference between finishing my first book and my second book.  My first book began life as my doctoral thesis, and thus much of the writing process was comfortably braced by my supervisor and my fellow PhD candidates, all of whom, even if their topics were completely different to mine, contributed to the sense of camaraderie and research community.  Once I began drafting my second book, however, I discovered that not only did I need to begin to think more about project management, but that I needed to think about project management in different ways that I had before.  After a year of false starts and failures on the second book, I began to reconsider the management of energy levels in academic writing, and develop some habits and systems to make the best use of my energy rather than just my time.

As I described last week, the differing types of energy required during the drafting and rewriting stages means that I measure progress in these areas in different ways: while drafting I measure progress by words written each week and while rewriting I measure progress by time completed each day.  But, of course, assessing progress is only one part of the problem.  There is still the matter of scheduling the time that is needed in order to achieve this progress, and over the past three years I have developed several habits and systems that have helped:
Set goals for number of drafting and/or rewriting sessions you plan to do each week. For the past three years, my stretch goal has always been to spend three hours drafting and three hours rewriting each day, for a total of 30 research hours per week.  I have always considered this ideal as something to aspire toward, and rarely have I achieved it.  My actual goal is 20 research hours per week, with a mixture of time for drafting and rewriting.
Set up repeating calendar events for periods of drafting and rewriting, even if these will rescheduled at a later point. When I look at next week's schedule in iCal during my Weekly Review (more on that in my next post), I will already have two three-hour sessions each day scheduled for drafting and rewriting.  Many of these sessions will be moved, shortened, or, sometimes, deleted, but because I have already set these up as repeating calendar events, I receive a constant reminder to keep pushing forward and the amount of work that I should, ideally, be committing to the project.  Using repeating calendar events also means that I don't have to manually add events to my schedule—it becomes just a simple matter of dragging and dropping to where they best fit.
Front-load the week. Every week is different, with different amounts of time spent in meetings or required for teaching preparation, administrative roles, and other surprise tasks and urgent deadlines.  While some things like one's teaching schedule or a regular weekly committee meeting don't more around a lot, there is still a great deal of flexibility needed throughout the week.  For this reason, I try to schedule as many of my drafting and rewriting sessions early in the week so that if things do come up, these can be pushed back to a later date.  Beginning each week with a sprint also means that occasionally I get a free Friday afternoon!
Use the Note field in a digital calendar to make a note on where to begin tomorrow. Both creative writers and academic writers agree that it is important to end each day of work by making a note of where you left off and what to begin with tomorrow.  Turning this into a ritual at the end of the working day can provide a sense of finality to what one has achieved that day, and set up tangible goals for the next day in order to hit the ground running.  Rather than making these notes in the document itself, I add it to the Note field in iCal: this gives me access to a snapshot of my progress on any of my devices, and gives me a record of what I managed to accomplish each day.
Complete a Weekly Review on Friday afternoons and a Monthly review at the end of each month (more on these reviews next week).
November 16th, 2015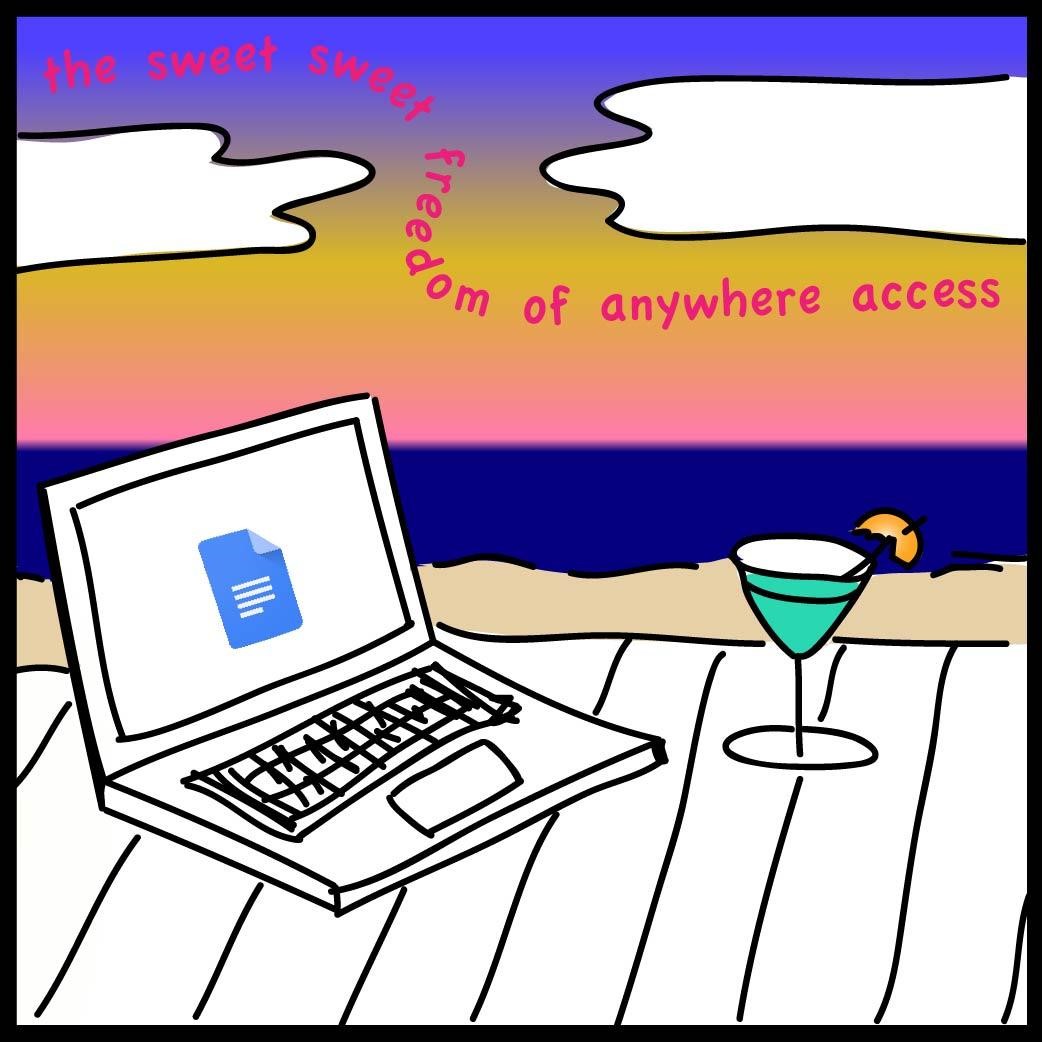 A revolutionary optimist and expert procrastinator, Minka Stoyanova subscribes to Wheaton's Law, believes that brie and red wine will solve most of life's problems and likes to pretend she is working towards a PhD at City University of Hong Kong's School of Creative Media.
WHAT IS MENDELEY?
                                                                                                           [Mendeley is all of the things, Mendeley is my brain]
Mendeley is a research management/digital library software package. Although the library can manage a variety of media types, Mendeley's strengths lie in its text-based-content manipulation. The software package includes a reference manager (a la refworks, or Word's embedded citation manager), a digital library interface (like Calibre), an e-reading application (similar to Kindle Reader, Adobe Reader, Preview, Google Books etc), and a collaboration tool which allows researchers to share documents and view each other's notes. It also includes web-based social functions such as the creation of profiles, much like Academia.edu.
Documents imported into the Mendeley library are also backed up to cloud servers along with any notes, highlights and annotations. These documents are synced to the cloud and available across computers/devices.
Mendeley is not necessarily the superior option for any one of these functions, but its ability to integrate all of these functions into one software experience makes it a flexible and streamlined option, wherein researchers are able to pick and choose the functions that best suit their research styles, creating an ideal research management tool.
I don't use all of Mendeley's features. For instance, I have never used Mendeley's social or collaboration tools, though I can see why they would be useful for group-work situations. I also rarely use Mendeley as a reference/citation manager as I do most of my writing in Google Docs. Google Docs does not (directly) support Mendeley citations and while there are workarounds available to use Mendeley's citation engine in non-supported word processors, I am lazy and create my citations in the old-fashioned way.
In the few cases where I have used Mendeley as a citation manager, I have found it intuitive and powerful. It creates citations and bibliographies in an impressive number of journal-specific/general styles with tight integration for Word, LibreOffice, and BibTex.
For me, Mendeley's most powerful functionality is in the integration of a solid library interface and a solid e-reading application as this combination solves the two greatest challenges facing academic researchers:
1.  Going Digital: Freeing oneself from the paper prison…
2.  Actually Knowing Things
In the next two posts, I will review Mendeley's functionality as a Library Interface and as an E-Reader.  Finally, I will review discuss some of the cons of a move to Mendeley and suggestions to get around them.
November 12th, 2015
Writer. Dancer. Tea Drinker. Idea Wrangler. See more of Dana's work and writing at www.danamray.com
The hardest part about learning to use Scrivener is the instructions in the longest tutorial ever created.
And I do mean long: 22+ mini-articles that take more than predicted three hours to read. As a busy person, I did not appreciate how difficult it was to fully learn this new tool. As I said before, I'm not a techy. Tutorials are absolutely necessary for me to survive in this world. But the instruction was indirect and chatty rather than efficient and to the point.
The upside is that the tutorial is written for the non-techy (me!). It imitates the friendly voice of the eternally patient friend. The tutorial writer will not shame you for any confusion. It gives suggestions and helpful guided practice. And it is very, very thorough. By the end, you have experienced every feature that Scrivener offers.
But long-winded paragraphs are not how I learn. On a good day, I struggle to read instructions accurately. I won't tell you the number of times that I've destroyed the simplest banana bread because I misread the teaspoon of baking soda as a tablespoon of baking powder. If the instructions are not even in a list form, my mind wanders.
The tutorial became an enormous barrier to me employing Scrivener as a new tool in my writing projects. To do the job thoroughly, it took six hours. By the time I finished, I had forgotten many instructions from the beginning. Albeit, the friendly tutorial encouraged me to take several tea and biscuit breaks, and even a glass of wine. I completed those instructions perfectly.
So is Scrivener worth the tutorial?
As with all things, it depends on your project goals. For some, Scrivener is not going to have the pay off that they want after such a steep learning curve. For others, they won't find it that difficult to learn and therefore can jump right in.
Others will find it difficult but well worth the effort. I suspect that I am in this final category because of my work style. I, for one, am a compiler, collecting notes and references and short paragraph sketches and section headers into a large, tangled pile before I can write a basic thesis. Scrivener, once I get used to it, has all the features that my old school sticky note piles but without the difficulty of reading my own hand writing or losing anything. Instead, I can employ my same project tactics but in a visually clean word processor. I no longer have to separate my initial thoughts from the drafting document itself. Every writer and academic is unique, and never more so than in their project habits Scrivener is designed to be useful to the most tangled work styles. The hope is that anyone using it can tailor it to specific and quirky structures.
If Scrivener were any simpler, it would not accomplish its goal of being flexible to the awkward, unaccountable tactics we each take to sort our ideas into comprehensive arguments and order.
But getting comfortable enough in Scrivener to "be you" takes time that none of us have. So here's my advice: only use the shortened tutorial. Do not sink yourself into the full tutorial—unless you adore the rambling explication of tools in a 22 Step Process. Play with Scrivener as you develop your project from brainstorming to completion. And when odd buttons and difficult tasks frustrate you: use the YouTube videos. A visual demonstration was more helpful and faster than the chatty written guide.
Even with the initial barriers, it does not take long to see how Scrivener can particularly help academics. I am going to quickly highlight some of those features for the beginning users. I include the tutorial sections that tell you about these features.
Footnote, Annotations, and References: Step 5D "References" & 5H
It can be incredibly difficult to integrate footnotes and annotations into long research documents using Microsoft Word. Formatting becomes a tedious process and can clutter the pages. Or, on the other end of the spectrum, it can be easy to miss footnote content. Scrivener allows footnotes to be stored away from the working text itself, a kind of digital sticky note that you can open as needed.
In addition, you can import actual reference texts into your project so everything is one place instead of strewn across document folders and various reference works.
Split Pane Feature: Step 8 "Splits"
Split pane feature is a beautiful tool to use with references. The screen splits in two and two documents can be viewed at the same time. I find that integrating references often requires flipping back and forth between browsers my tiny laptop screen; it's annoying at the very best and confusing at worst. Split pane allows you to view the PDF you found in JSTOR or the screen shot of the webpage you are analyzing at the same time you are writing your analysis. 
Composition Mode: Step 4 "Composition Mode"
As Scrivener acknowledges, this is not innovative in the world of word processors. However, it is great that it is there. Go into Composition Mode and it is just you and your text. Composition mode allows you to access many of the Scrivener formatting and writing tools without having to exit the focused view. With the significant word counts every day this month, focus is essential.
Next week, I'll address how Scrivener affects interdisciplinary projects, particularly those that require multiple forms of media like in the digital humanities.