Astrid Bracke writes on twenty-first-century British fiction and nonfiction, ecocriticism, narratology, climate crisis and flood narratives. Her monograph, Climate Crisis and the Twenty-First-Century British Novel, is under contract with Bloomsbury Academic. This is the third of four blog posts she will write for AcWriMo 2016.
So you've drawn up a plan for the book – now it's time to write!
When I started I thought I knew really well what I was going to write. After all, I'd written a detailed book proposal. But while I was writing I decided differently on a few things – and, to my surprise, discovered connections between chapters that I hadn't seen before. I'll discuss that in this post, and share my revision checklist for making the manuscript ready for submission.  
It's fine and totally normal to divert from the proposal you submitted. Even though the publisher offered you a contract based on it, it's really not set in stone. I had planned to write four chapters, each on what I call a narrative of nature. Beforehand I had decided that the chapters would form companion chapters: pastoral and urban were a pair, and so were environmental collapse and polar. But I discovered another connection between the chapters: in both pastoral and environmental collapse narratives, time plays an important role. Urban and polar narratives share an emphasis on space.
A bigger change was that I decided to take out two novels and replace them by two others. I doubted for a while whether I would run this change past my editors. The novels discussed in a book also partly determine the audience so taking out an important author like Ian McEwan might make an impact. I ended up discussing it with a colleague who has experience in publishing and decided not to tell my editors. If I'd wanted to make a bigger change, though, like taking out or adding a chapter, I would certainly have told them.
When I started I believed my focus would be on four narratives of nature that show how climate crisis is imagined is twenty-first-century British fiction. As the project progressed it slowly became clear to me that the real argument of my book is slightly different. It's not, as I thought, just that these books depict certain narratives, but rather that they participate in and reflect a wider cultural awareness of climate crisis. In practice this meant that at the beginning of every chapter I explicitly referred to a film or other non-literary example to show this cultural awareness, and that I did that even more in the introduction. My book now starts with a reference to Leonardo DiCaprio's 2016 Oscar-speech.
When I drew up my plan I made sure to include plenty of time for revision. In general I don't edit as I write – I very much believe in the principle of shitty first drafts and try to keep my internal editor at bay while I'm writing.
I'm a list-maker so naturally I made a revision-checklist for myself: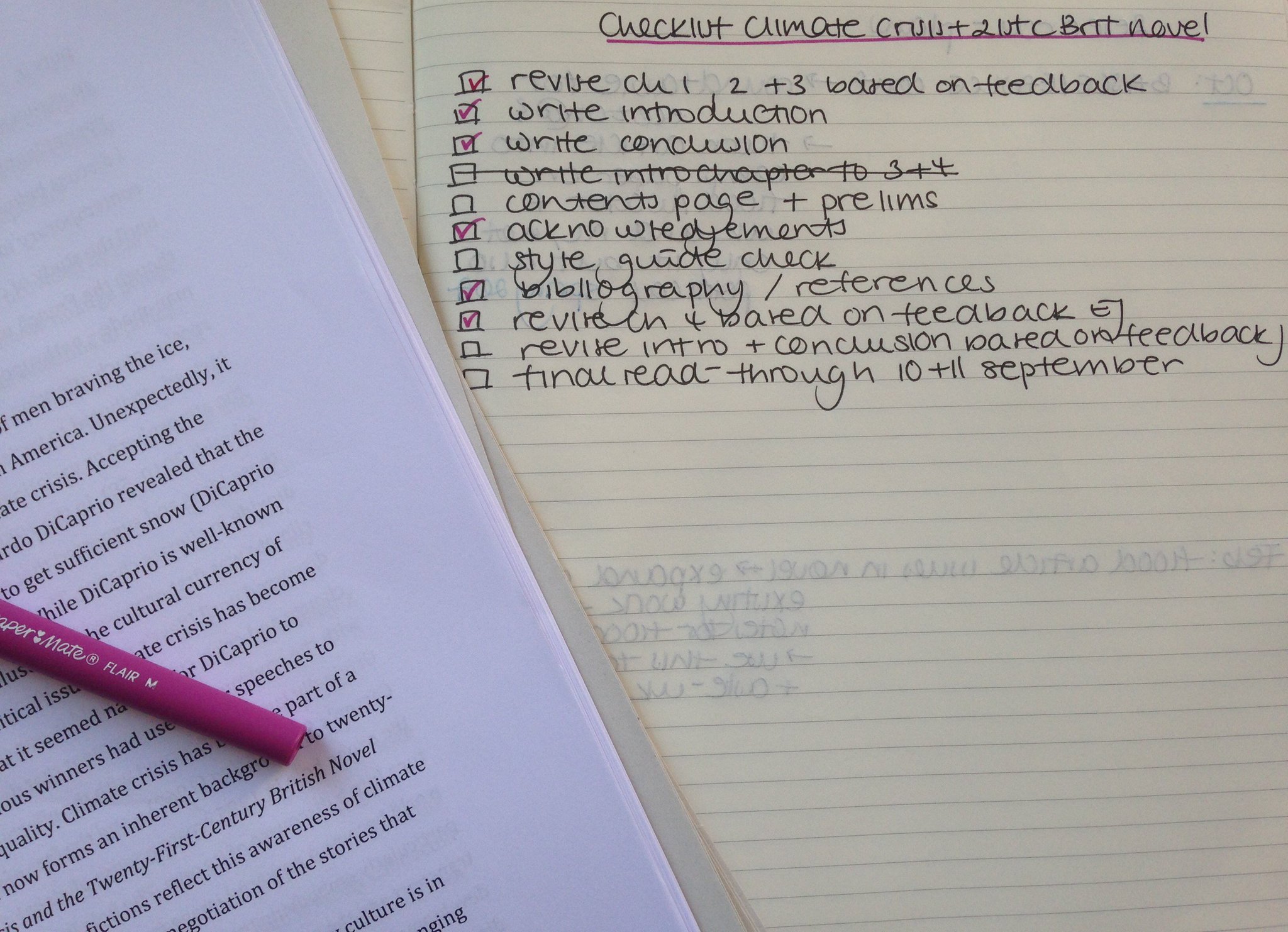 Make back-ups in more than one place!

First read-through and edit, paying attention especially to structure;

Second read-through and edit, with special emphasis on the argument on section and sentence level;

Revision based on first reader's comments;

Revision based on feedback of other scholars in the field (this revision includes the next steps);

Is the argument of the chapter clear?

Do all sections contribute to the chapter's overall argument?

Does every chapter have a strong conclusion?

Do the chapters contribute to the argument set out in the introduction?

Does the conclusion follow logically from the chapters?

Do the parts of the book taken together feel like a whole? Have I signalled shared themes and other connections between the chapters? Is the overarching argument reflected in each of the chapters?

Final revision: publishers' stylesheet (spelling and punctuation preferences; reference style); final spell-check.

Manuscript ready for submission, including all the preliminaries requested by the publisher.
I left writing the introduction and the conclusion until the very end. First I read all four chapters again and revised based on the feedback I had received. This helped me immensely to get the distance and perspective I needed for the introduction and conclusion. More than once I complained that I thought the introduction was the most difficult part of the book to write (that is until I started on the conclusion and I complained about that…).
The introduction is where you probably make – and write about – most of your choices. This is where you concisely set out your argument, but also where you decide how much you want to write about the wider field, how your book fits in with other work. My book ties in with two fields of literary criticism. Choosing to focus on four 'narratives of nature' means explaining why these four are important. Focusing on twenty-first-century British fiction means explaining why British literature and why twenty-first-century fiction.
The conclusion is really about finding that sweet spot where you don't summarize too much, but still bring together the main points, and showing the wider relevance of your book without going off at a tangent about other directions.
And then, much faster really than I had anticipated, most of the work was done. I put all the chapters in one document and set out to check whether it followed the publisher's stylesheet. Although they recommended using it from the beginning, I hadn't. I ended up writing the four chapters according to the stylesheet I used most often, and had to make the changes at the end. It wasn't too bad though: I was going through the individual chapters again anyway and had made a list for each chapter of the things I had to change.
The publisher's stylesheet also specifies what you should include when you submit the manuscript – not only the text of your book, but also preliminaries (or prelims). Depending on the publisher, preliminaries consist of one or more title pages, a series page, acknowledgements and the table of contents. At this stage you don't yet have to provide the index: your contract will specify if and when you'll need to provide it, generally a few weeks after receiving the final proofs.
Once you've submitted the manuscript it's time to congratulate yourself for pulling this project off. And that's when the wait starts to hear back from the publishers and the reviewers. In my next post I'll write about the final element of writing a book: communicating with the editor(s) and publisher.